echnology and fashion go hand-in-hand with fiber optic fabrics. They are, in essence, high-tech clothing.
Textile weaving uses plastic optical fibers to produce this fabric. 
As we all know, LEDs can be controlled by an electronic controller to change the color of the light. LED light transmits color to the optical fiber, causing the fabric to glow and change color. These fiber fabrics can produce thousands of colors that are loved by designers from all walks of life.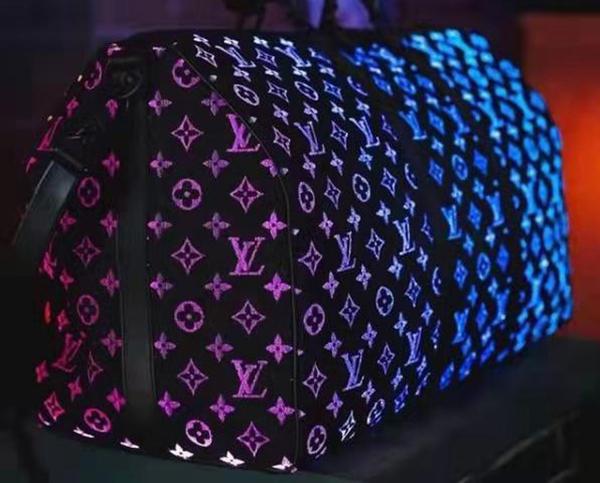 The products we make are high-tech, fashionable, and beautiful. LOUIS VUITTON The fiber optic bags,Skechers fiber optic shoes, and Claire Danes's Zac Posen  made with fiber optics are very trendy at the moment.
What is the best way to purchase fiber optic fabrics?
As a first step, we need to know the supplier's position:
a) Look for factories with strong manufacturing capabilities when purchasing. As of now, LUMISONATA and DREAMLUX are the only two sources worldwide capable of producing high volume fiber optic fabrics. Their business has produced fiber optic fabrics for many years, despite capital restrictions, technological developments, and production limitations. There are many reasons why they are superior.
Others that offer optical fiber fabrics online are trading companies, but they will claim that they are the source factories. Distinguishing between the two is important.
b) The fiber optic fabrics that LUMISONATA has to offer are more cost-effective because their parent company is Shenzhen Fashion Luminous Technology Co., Ltd., a company that was founded in 2013. The company has been developing and selling fiber optic fabrics for a long time now.  
China has relatively low production costs. For fiber optic fabrics to emit and change colors, they must be combined with LEDs and LED controllers. Electronics are big business in Shenzhen. They have the latest electronics, and they are relatively inexpensive.
LUMISONATA produces and sells optical fiber fabrics controlled by four or five types of LED electronic controllers. As shown in the figure, the most advanced ones can already be controlled by mobile phone AI:
When buying optical fiber fabrics, you should pay attention. We must consider the subsequent processing and production of finished products to be simple, convenient, and efficient. As we know, there is an exposed optical fiber at each end of the fiber fabric strand.
Optical fiber needs to be bundled, and the bundle point needs to be connected to the LED. Unskilled workers have more difficulty working with clustering and coupling.
LUMISONATA treats these two parts specially and uses a targetted mold. After a customer purchases the fiber fabric and returns home, they only have to tighten the cluster point and LED light source, which greatly improves efficiency for the customer. Here's how it looks: 
After determining the fiber fabric supplier, we need to discuss the specific details of the procurement with the supplier.
Here are the specifics:
1. There are a variety of uses for fiber fabrics in the current market, since different fibers are used for creating different types of fiber fabrics (at present, fiber fabrics are used for making shoes, bags, dresses skirts, gifts, etc.). Prior to buying fiber optic clothes, you have to decide on the purpose.
2. Following the identification of the fabric technology products to be purchased, we should determine the specific quantity to be purchased. You will need to decide the amount and quantity depending on what you want to make. Keeping it from being wasted will save you money.
3. Price negotiation: After comparing prices according to the parameters provided by the supplier, both parties should negotiate a price that is satisfactory to each party.
4. Buy samples: If you are buying fiber optic fabrics for the first time or if you are purchasing them from a supplier for the first time, you should purchase samples first. As soon as you receive samples, you should make sure the products are what you need and the quality is good.
Generally, purchasing samples is very simple, and the cost is very low. Sample fees are deducted from bulk orders. You don't have to think about the cost of the sample, as long as you have real bulk purchasing requirements. It saves both time and money.
5. Prepare a contract: If the sample order is satisfactory, then you'll need to prepare a contract covering specific aspects such as price, quantity, delivery, quality requirements, packaging requirements, customer service, payment methods, and logistics.
Let me briefly describe them for those of you who are buying for the first time:
a) The quality requirements: Generally, the optical fiber fabrics' parameters should be clarified, and standard materials should be used.
b) Packaging requirements: It needs to be treated differently based on the quantity purchased. A small amount can be packed in a carton, and the inner bag is packed in a waterproof PP bag.
A foam stick supports the folded position of the fabric, preventing it from slipping. When it is a large quantity, you must use a cylinder to code and then use a PP bag for waterproof packaging, along with a cloth bag and a carton.
c) As part of the after-sales service, it is necessary to clarify the technical support provided by the supplier, and the electronic controller must also specify the warranty period, exchange and return policies, etc.
d) Payment method: generally the full amount of the TT.
e) Transportation cost: The fiber optic fabric must be transported with an electronic controller, which is powered by a lithium polymer battery. In order to go through logistics, the supplier must supply a product certificate, such as CE, FCC, ROHS, UN38.3, etc.
6. Once the contract has been signed, we pay, and then track production and delivery. As soon as the goods arrive at the port of destination, we have to clear customs and receive the goods according to our local regulations and policies. Our next step is to prepare for production once we have received the goods. The fiber optic fabrics procurement process is now complete.
To provide a better understanding of fiber optic material, I will write more articles soon. Please share my article on your social media platform if you found it useful. I appreciate your help.